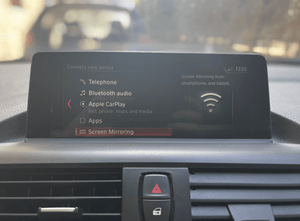 This is Lifetime activation of BMW Android Screen Mirroring incl. Video in motion - possible to use Android Screen Mirroring during driving
HOW TO CHECK FIRMWARE VERSION? 
To Check Firmware Version – Go to Navigation -> Press Options Button -> Go to Settings -> Go to Position & Version History -> Check Version - You will see NBTEVO_XXXXX

USB Coding applies to following software: 
NBTevo_H, NBTevo_I, NBTevo_J, NBTevo_K, NBTevo_M, NBTevo_N, NBTevo_O
Procedure for USB Coding: 
You'll receive file, and then just copy it to FAT32 formatted USB DRIVE, plug it in your car, 1 minute and you're DONE - CarPlay is installed and activated.
ENET Coding applies to following software: 

NBTevo_P, NBTevo_Q, NBTevo_R, NBTevo_S, NBTevo_U, NBTevo_V,  NBTevo_W, NBTevo_X


Activation using ENET cable:



1. Download the app that we'll sent you for activation (simple one click App)




2. Start the car, then connect cable to your car and computer




3. Launch the app. You will receive code from us to enter it in the app - it's for activation features that you've bought.




4. Enter the code




5. Click Start




6. Wait about 5-6 minutes till everything is finished
Detailed instruction will be provided after purchase for both ENET and USB Activation.