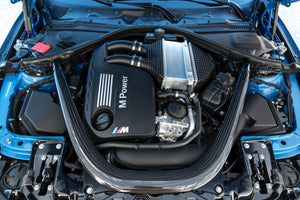 BIMMER-REMOTE presents Stage 1 Tune (Custom) for BMW F80 / F82 / F83 (M3/M4).
All you need is an ENET cable, Windows PC and Battery Tender.
Process takes around an hour. Need a good network, all done remotely through TeamViewer.com
You can expect:
510 hp / 500 ft-lb (680Nm)
Gauges will be rescaled to proper values. Speed limiter set to unlimited.
Within the flash you can get: 
- Soft/hard burbles on Sport/Sport+ (or no burbles at all)
- Cat Delete
and any DCT delete you would want.
This is a custom tune, made from scratch, not some OTS.
Best way is to combine it with GTS Flash (Gearbox, Steering, DSC, Differential).
Compatibility:
2014 - 2018 BMW M3 / M4 F80 / F82 / F83 (Both ZCP/Non-ZCP versions)
Reviews: 
Check the review at Bimmerpost