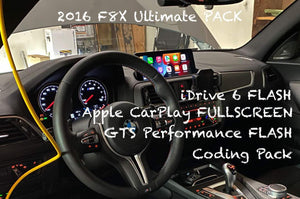 BIMMER-REMOTE presents Ultimate Coding / Flashing Pack for all BMW F8X owners!
Our F8x Ultimate Pack includes:
Famous BMW iDrive 6 FLASH that will make your car look fresh again
BMW Apple CarPlay FULLSCREEN for all Apple users
BMW Screen Mirroring for all Android users
BMW GTS / CS Performance FLASH that includes Transmission, Steering, Differential, MDM and EDC. 
Coding Pack - choose from variety of codings available for your F8X
All REGIONS Supported.
Requirements for flashing:
- ENET Cable (OBD2 to Ethernet) (LINK) 
- 30GB of free space on your PC
- Windows PC or Mac with Windows on Bootcamp
- Car charger / battery tender or another car running with jumper cables.
- WiFi antenna in your car - either OEM (Part no.61119278133) or Aftermarket plugged to the back of the headunit - to get best the CarPlay experience. 
WiFi antenna is not included - you need to purchase on your own - we recommend OEM or Aftermarket. We'll send you a video how to install WiFi Antenna.
After purchase you will receive a software to download. After downloading the software we will book a remote session for you. Process is done remotely by one of our technicians through Teamviewer. It takes 1 hour from start to finish. 
This is a special limited promotion. All discounts are excluded.
Compatibility:
BMW F80 / F82 / F83 - M3 / M4 (Late 07/2015 - 2020)
BMW F87 (2016-2020)