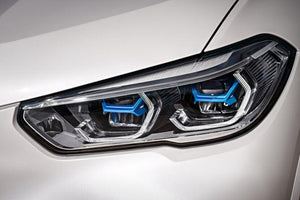 BIMMER-REMOTE proudly presents Anti - Dazzle / NGHB / VLD Lights coding for all F / G series*.
You need to have Adaptive Lights / Laser Lights.
Compatible vehicles:
F series: F01 / F02 / F06 / F10 / F12 / F13 / F15 / F16 / F22 / F23 / F30 / F32 / F33 / F34 / F36 / F44 / F80 / F82 / F83 / F87 / F90 / F97 / F98
G Series: G01 / G02 / G05 / G06 / G07 / G15 / G16 / G20 / G22 / G23 / G29 / G30 / G32 / G80 / G82 / G83 
If your vehicle is not listed here please send us your VIN to check compatibility. 
You will need: 
- ENET Cable (OBD2 to Ethernet) (LINK) 
- Windows PC or Mac with Windows on Bootcamp
- Stable network connection
Process is done remotely by one of our technicians. Takes roughly 20-30 minutes.
After purchase you'll receive an email to schedule the session with our technician.
No warranty void. No affect on tunes. 100% satisfaction guaranteed.
Process will be done through Teamviewer. All you need to do is plug in ENET Cable to your PC and the car, turn on Windows PC and send us your Teamviewer password and ID. One of our specialists will connect to your PC and proceed with the coding.
* Some of the models may not work due to lack of hardware, if we check that after purchase, we'll refund you.